BTS finally got to perform LIVE on stage at the 2022 GRAMMY Awards and, as expected, they delivered a mind-blowing rendition of "Butter."
Borrowing the line "like a criminal undercover" from the song, they basically whipped up a "heist and spies" concept that referenced scenes from famous Hollywood films of the same genre.
From Jin's Blackhat-like full computer hacking system to Jung Kook's Mission Impossible entrance, and the whole Entrapment-/Ocean's 12–inspired dance break, everything about the performance simply screamed action-packed thriller.
While performing their biggest single to date — the song that gave them their second GRAMMY nomination following "Dynamite" in 2021 — the group also took the opportunity to showcase their nine-year-long legacy in K-Pop and global music.
It is no secret that BTS and the impact of their music among listeners worldwide have been ignored all these years by the Western music industry mainly because they sing their songs in their native Korean language and not in English.
Nonetheless, this seven-man collective more than proved their worth with their mighty arsenal of songs, album concepts, and performances that will all go down in history as among the best there is in global entertainment.
And they even flexed some of that meaty discography on the GRAMMY Awards stage!
Here are some Easter eggs from the "Butter" performance you might have missed:
Return to the HYYH era
Lyrics from "FIRE" and "DOPE" were seen flashed on the backdrop while the members, sans Jin who is still nursing an injured finger, breezed their way through the stunning dance break.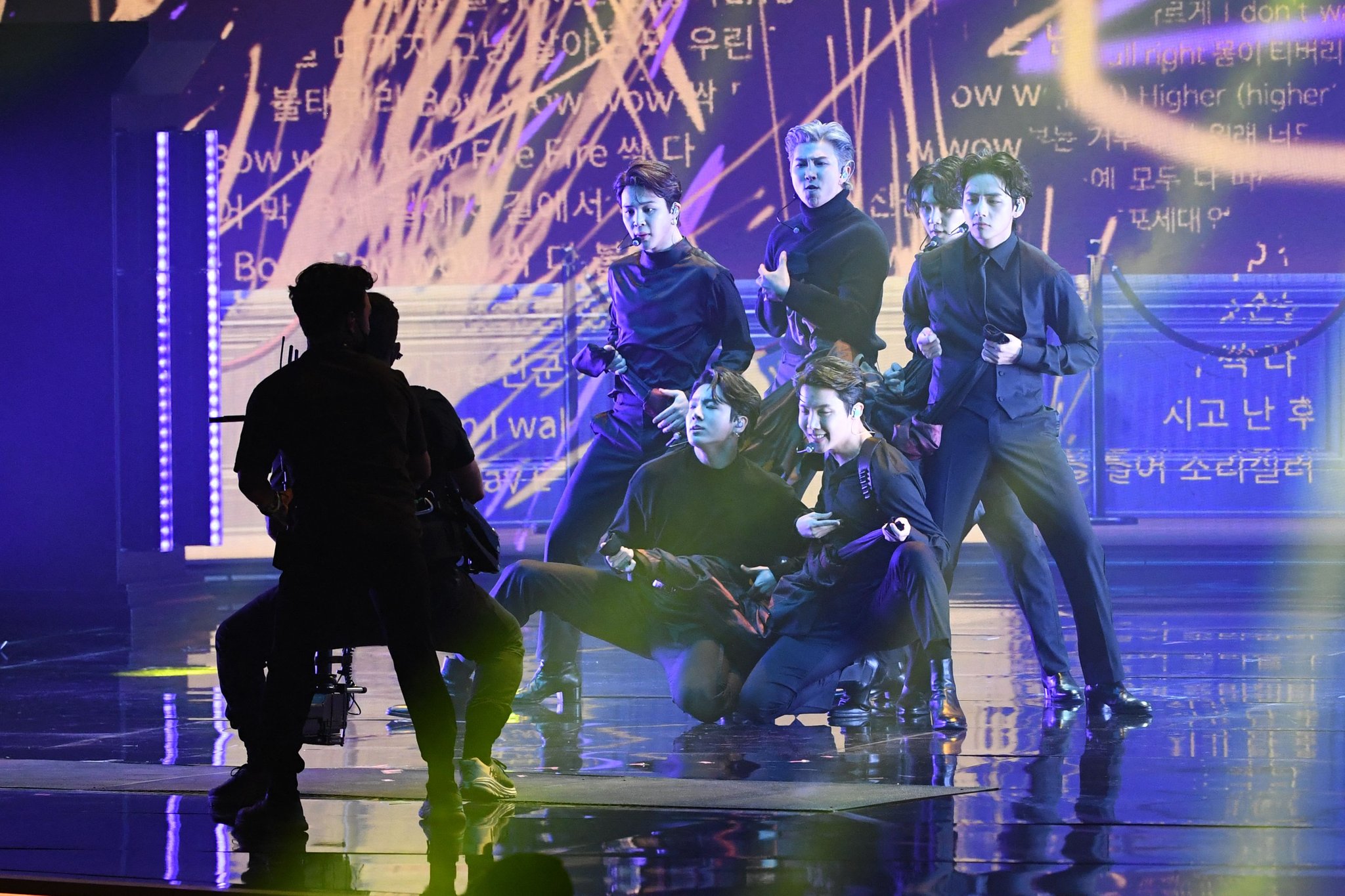 Both "DOPE" and "FIRE" are songs from theirThe Most Beautiful Moment in Life (HYYH) album series, also known as the Youth trilogy, which includes The Most Beautiful Moment in Life Part 1 and Part 2, and Epilogue: Young Forever all released between 2015 to 2016.
Some ARMYs on Twitter are saying this could be a clue to BTS' next comeback as RM had recently been posting old pictures from the HYYH era on his Instagram, and also what looks like the Smeraldo flower appeared on the "Fake Love" stage at the Permission To Dance On Stage – Seoul concerts.
Another reference to the HYYH era is the set of photos that also appeared in the backdrop during the performance.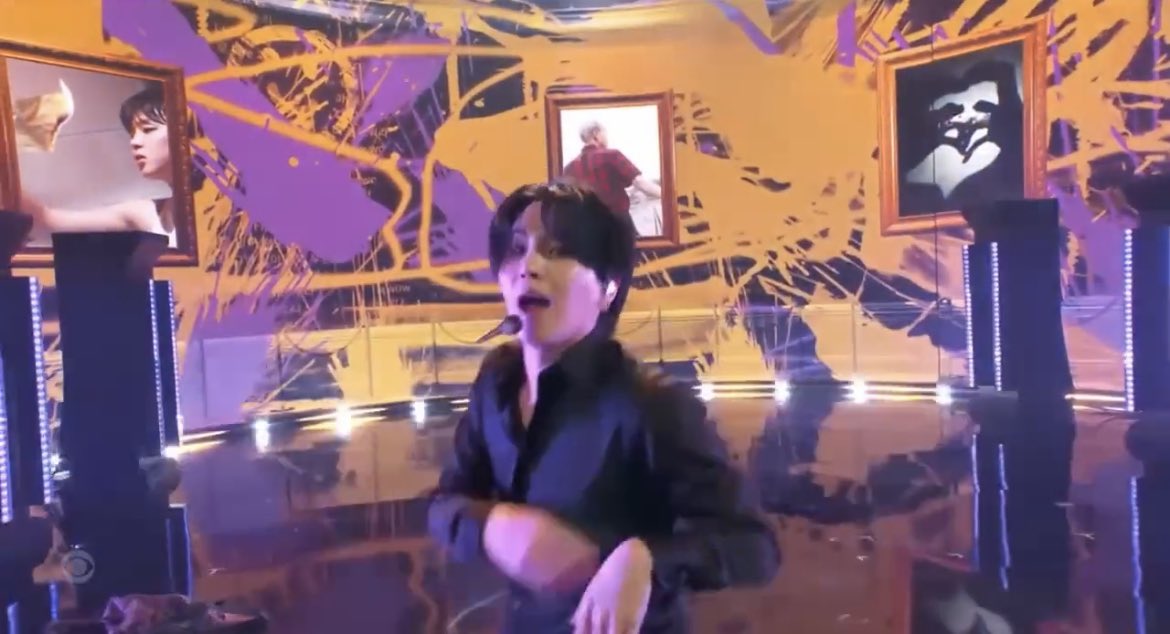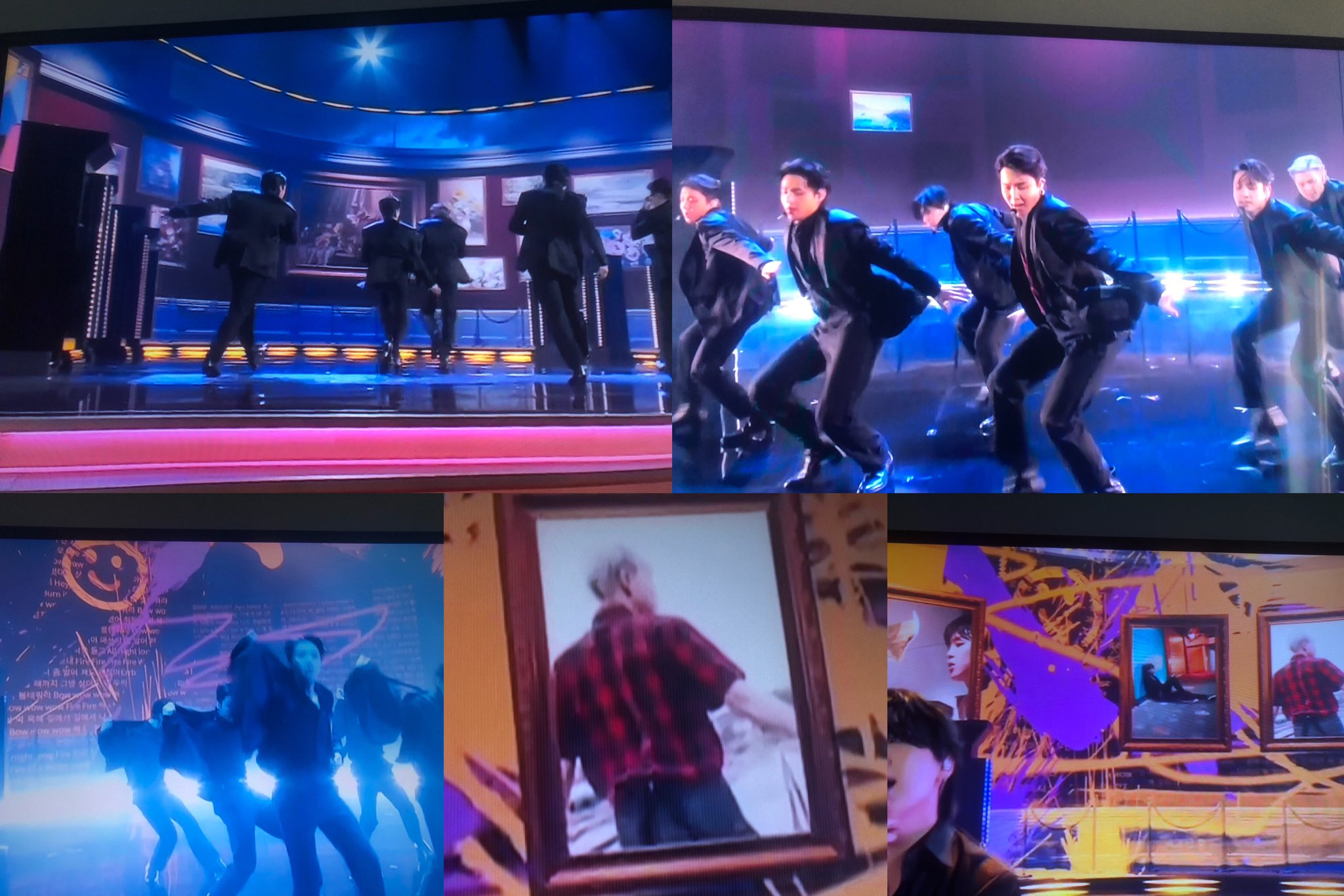 In the beginning, the backgound showed classic artworks displayed on the "walls" of an art gallery. However, as the jaw-dropping dance number progressed, the pictures were soon replaced with photos from the HYYH era.
It's as if Jin, who only joined the members on the final dance routine and sat by his hacking system througout most of the performance, had stolen the artworks while the rest of the members distracted the audience!
If our observation is correct, then this totally aligns with the "heist" concept.
We can even say that this scene represents how BTS is "hacking" into the old notions of what good music is all about and is showing the GRAMMYs and the Western world what they have been missing out on from Asian artists.
"Euphoria" Pt. 2
Another throwback to an older BTS concept is when Jung Kook descended to the GRAMMY Awards stage using a harness.
The scene looks very similar to his "Euphoria" stage during the 2019 Love Yourself Speak Yourself world tour where he flies over the audience in the middle of the song.
From hat trick to card trick
One of BTS signature stage stunners from 2013 is the Jimin-to-Jung Kook hat pass from their "We Are Bulletproof Pt. 2" choreography.
To this day, even though most ARMYs already know that it's all just a trick, it's still so amazing to watch — and we were treated to some sort of revival of it at the GRAMMYs!
After V's James Bond-ish moment with Olivia Rodrigo, where he whipped out a gold card from behind their fellow GRAMMY nominee, he swiftly threw the card out front just as the camera switched to Jung Kook and appeared to have caught the card.
Talk about some magical moments!
[UPDATE] Jacket trick upgrade
So we found another throwback reference! This time from the now-famous dance break where BTS briefly turned into magicians with their jacket undressing trick.
We've been thinking long and hard about where we've seen this before and it turns out to be from the BTS Prom Party in 2018 where the members prepared special subunit stages for ARMY.
Prom Party was held in celebration of the group's fifth anniversary and for this occasion, Jimin and Jung Kook paid homage to music and dance legend Michael Jackson.
From donning cartoon onesies, Jimin and Jung Kook changed into white and black suits respectively to perform a wonderful rendition of Jackson's 1991 song "Black and White."
The jacket trick was already amazing to see back then but when Jimin and Jung Kook revived with RM, SUGA, j-hope, and V, everything just turned even more spectacular!
Here's to wishing that they get to perform this routine again with Jin or perhaps release a practice video? *prays intently*
BONUS: Run BTS prepared them for it
A lot of ARMYs had pointed this out on social media and it's just too funny not to include in this list!
Although we think it had more to do with the "heist" concept — think of Vincent Cassel's Capoeira Dance scene from Ocean's 12 — the resemblance of the laser dance routine to the "Spider's Web" game from Run BTS Episodes 126-127 can't be ignored.
Just take a look at this clip of how Jung Kook tried to get past the web of strings without hitting any of them and ringing the bell.
Look's pretty much like the laser dance break sequence, right?
Now what's even funnier and surprising is how SUGA (and also j-hope after completing the Spider's Web game) quipped about how pointless the whole activity was because they are in fact singers and not cast members in a game show.
Then we see him doing this slick sliding move on the GRAMMY stage and now we can't help but agree with other ARMYs that Run BTS did prepare them for this moment.
And if this ain't fate or luck, guess what the title of the two-part episode was — it's called the "777 Special," as in casino slot machine Lucky 7!
Indeed, the "Butter" stage at the GRAMMYs is something truly remarkable and unforgettable not only for BTS and ARMY but for Las Vegas!
Now we can't wait to see what will go down at the Permission To Dance On Stage – Las Vegas concerts.